Philip J. Ciaramicoli, Jr.
President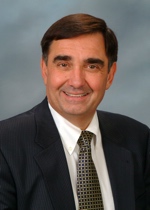 Mr. Ciaramicoli joined Milford Regional Physician Group in 2001. He served as chairman of the Group's Board and as a trustee of Milford Regional Medical Center before taking the helm as President. In his role, Phil is responsible for leadership, strategic planning, and growth and development of the group. A key component of his role is physician recruitment and retention. He spends much of his time working collaboratively with physicians on various quality and efficiency measures, including implementing several healthcare reform models.
Phil is a member of the senior management team at Milford Regional Healthcare System and works closely with the system's CEO and the hospital's President on strategic decisions. Phil also services as our administrative representative to Partners Community Physicians Organization (PCPO) and is on several PCPO target setting and cost containment committees.
Phil received his BS in Economics from the College of the Holy Cross, his MBA from the University of Massachusetts, and a Master of Science in taxation from Bentley College. His professional career began at Deloitte & Touche, where he worked in both the audit and tax departments over a ten-year period. Prior to joining Milford Regional Physician Group, Phil was a tax partner and director of tax operations with Carlin, Charron & Rosen LLP, a regional public accounting firm. Over his career, he worked with many clients in the healthcare industry.
He is a Certified Public Accountant and is a member of the American Institute of Certified Public Accountants. He is a member of the Medical Group Management Association and attends several MGMA conferences and seminars throughout the year.
Phil combines his leadership abilities along with his expertise in the healthcare and financial industries to continue to develop and improve our system. Phil grew up in Milford and is committed to bringing quality healthcare to the community in which he resides.