Susan Navien
Director of Human Resources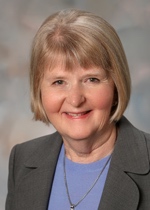 Sue joined Milford Regional Physician Group in 2007 as the company's Recruiter. With her extensive knowledge and experience in Human Resources, Sue's role expanded into employee relations, compensation, benefits, performance management, and policy development.
In 2011, Sue was promoted to Director of Human Resources where she continues to promote employee engagement and development. Under Sue's direction, Milford Regional Physician Group is committed to developing highly skilled employees who work together to provide exceptional healthcare services to our community with dignity, compassion and respect.
Prior to becoming a member of Milford Regional Physician Group, Sue was the Director of Human Resources for Daymarc/Delta Design located in Littleton, MA, a leading manufacturer of automatic test handling equipment for the semiconductor industry.