Aditi Ahlawat, MD
Dr. Ahlawat studied Biology at Brandeis University and received the Senior Thesis Excellence Award on her work regarding Lafora Disease, a rare form of epilepsy. This experience ignited her passion for neurosciences early on in her career. She attended the University of Massachusetts Medical School in Worcester, MA, where her time in primary care and specialty clinics shaped her life-long desire to care for patients with chronic disease. She was awarded the Medical Student Prize for Excellence by the American Academy of Neurology and the Research Travel Grant from the Neurocritical Care Society for her research on penetrating traumatic brain injuries. She also was awarded the 2014 New England Case Report of the Year for her research on POEMS syndrome, a rare disease affecting multiple organ systems. Dr. Ahlawat also published in the journal Neurology during her time as a medical student.
Dr. Ahlawat began her internship training in Internal Medicine at Yale New Haven- Griffin Hospital, where she received "Intern of the Year-2016" for her outstanding clinical performance caring for her patients. Following her internship, she traveled to Boston, MA for residency training at Beth Israel Deaconess Medical Center (BIDMC)/Harvard Neurology. During her residency, she developed a passion for treating neuromuscular disorders, such as Myasthenia Gravis, ALS, muscular dystrophies, and various neuropathies. She completed her fellowship in Clinical Neurophysiology/EMG at BIDMC where she trained extensively to perform electromyography and nerve conduction studies. During her residency and fellowship, Dr. Ahlawat focused her research on the financial relationships between the pharmaceutical industry and neurologists to ensure that patient care is always at the forefront of these collaborations.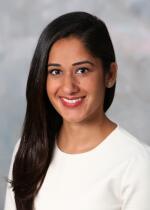 Accepting New Patients
Practice: Milford Regional Neurology
Telephone: (508) 381-5016
Medical School: University of Massachusetts Medical School, Worcester, MA
Residency: Beth Israel Deaconess Medical Center, Boston, MA
Fellowship: Clinical Neurophysiology/EMG - Beth Israel Deaconess Medical Center, Boston, MA
Specialty: Neurology
Additional Information: Dr. Ahlawat is fluent in French.