Practices
Milford Ear, Nose & Throat Surgery
308 Main Street
Milford, MA 01757
Phone: 508-478-0555
Fax: 508-473-5088
M-F: 8:30am - 4:30pm
S-Su: Closed - Closed

Providers see patients at various times based off scheduled procedures and office hours. Please note that our phones are covered by an answering service from 12:00 - 1:00PM during lunchtime. While we are open for patient visits during the hours listed above, our phones may be covered by our answering service for the first and last half-hours of our business day. Our office is closed on most major holidays.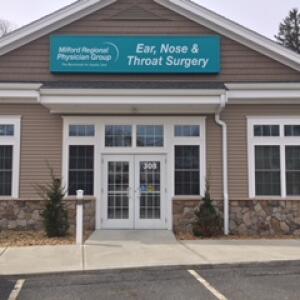 Welcome to Milford Ear, Nose, and Throat Surgery. We are a comprehensive practice specializing in the diagnosis and management of ear, nose, throat, and head and neck disorders. Our facility offers both medical and surgical treatments for problems involving the sinuses, voice box, mouth, throat, hearing, and structures of the neck and face.
Our facility is fully equipped with a hearing technology lab as well as medical equipment to diagnose and treat ear, nose, and throat disorders. We are able to do many procedures in our office, including laryngoscopes, video stroboscopes, nasal/sinus endoscopies, and drainage of tonsil and skin abscesses. We can also perform biopsies on thyroid and neck masses, ear tube placements in adults only (children are done at hospital), excision of some skin cancers, hearing and balance testing, release of tongue tie, and removal of cysts or masses in mouth or lips.

Urgent Care, After Hours and Emergencies
For urgent medical problems after hours, please call 508-478-0555. Our office on-call physician will return your call. If you have a life threatening emergency, call 911 or proceed to your local emergency room.

Hearing Aids
Our practice recommends that patients first see one of our certified audiologists for a consultation. The audiologist will then to assist patients in choosing, fitting, and programming the amplification appropriately on the hearing aids. Milford Regional Physician Group's ENT is not a hearing aid dealer, rather we help the patient find the right hearing aid to not only assure satisfaction, but also bring comfort and stability to patients with hearing impairments.
Medical Records
If you need a copy of your medical record, please download our Medical Record Release Form. Print, complete, and return it to Milford Regional Physician Group via mail or fax as indicated on the form.
Insurance
We are providers for most medical insurance plans. Because there are a wide variety of insurance options, please contact your insurance company directly to make sure your doctor accepts your plan. We provide equal access to our patients regardless of the source of payment.
If you are insured, please remember to bring your insurance card with you when you visit our office. We must validate your insurance at each visit. Your co-payment is due at the time of your visit. We accept check, Mastercard, Visa, Discover and American Express. If you are uninsured, please visit the Massachusetts Health Connector website.
​Hospital Affiliations
Our primary hospital is Milford Regional Medical Center
Providers At This Practice