Practices
Milford Regional Sleep Center
194 West Street #10
Milford, MA 01757
Phone: 508-381-6590
Fax: 508-381-6593
M-F: 7am - 3:30pm
S-Su: Closed -

Testing Hours: 6:30pm - 6:30am. Please note that our phones are covered by an answering service from 11:30-12:30 during lunchtime.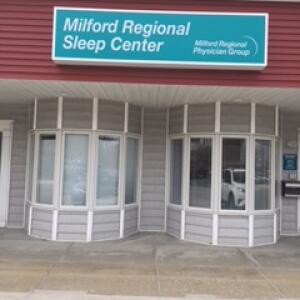 We are specialists in the evaluation and treatment of all types of sleep disorders including sleep apnea, insomnia, narcolepsy, snoring, sleepwalking, sleep talking, night terrors and nightmares, and restless leg syndrome. Sleep apnea and associated disorders have been shown to be more common in this country than hypertension or diabetes.
We treat men and women age 13 and up.
Our facility offers...
Senior staff including Registered Polysomnographic Technologists and Licensed Respiratory Therapists
State-of-the-art testing equipment
Large comfortable bedrooms with full size beds, cable TV, and private bathrooms with showers (see photos below)
Handicapped accessibility
Educational information and materials in the lobby throughout the year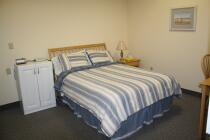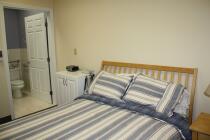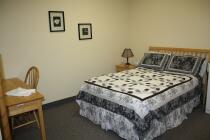 Scheduling an Appointment
If you think you may have a sleep disorder and you would like to be evaluated, please discuss the problem with your primary care physician. He or she can arrange for a referral.
If you have questions regarding our Center, please call us at 508-381-6590.
If you need to cancel or reschedule an appointment, please give us 24 hours notice so that we may schedule that time with another patient. If we do not receive notification, a no-show charge may be billed to your account.

Insurance
We are providers for most medical insurance plans. Because there are a wide variety of insurance options, please contact your insurance company directly to make sure your doctor accepts your plan. We provide equal access to our patients regardless of the source of payment.
If you are insured, please remember to bring your insurance card with you when you visit our office. We must validate your insurance at each visit. Your co-payment is due at the time of your visit. We accept check, Mastercard, Visa, Discover and American Express. If you are uninsured, please visit the Massachusetts Health Connector website.

Practice Forms
Patient Education
As a patient, it is crucial that you understand your medical condition as well as related procedures and treatment. To help patients recall and fully understand information that your Milford Regional Physician Group provider shared with you during a visit, we have created short patient education videos. Please click on the topic that you are interested in below. You will be connected to another website and see your provider's profile page. In order to access the video, please select on the desired topic under "Watch my vidscrips". For more videos by Milford Regional Physician Group providers, you may visit our Patient Education page.
Initial Sleep Consultation- Theresa Arpin, MD
Sleep Study- Kathleen Richard, MD
​Hospital Affiliations
Our primary hospital is Milford Regional Medical Center

The Milford Regional Physician Group Network of Doctors​
Milford Regional Sleep Center is a Milford Regional Physician Group facility. Milford Regional Physician Group is a physicians' practice group serving the healthcare needs of residents in MetroWest and the Blackstone Valley. Our physicians, physician assistants and nurse practitioners practice primary and specialty medicine in office locations within Bellingham, Franklin, Hopedale, Hopkinton, Medway, Mendon, Milford, Northbridge and Upton. For a free guide to our many fine healthcare providers, please call 508-473-1480.
Providers At This Practice