Practices
Milford Regional Urgent Care - Hopkinton
1 Lumber Street
Suite 101
Hopkinton, MA 01748
Phone: 508-625-3535
Fax: 508-625-1973
Mon-Fri, 8am to 8pm Sat and Sun, 9am to 5pm
Please note that our phones are covered by an answering service from 11:30-12:30 during lunchtime.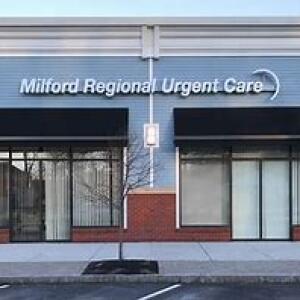 Milford Regional Urgent Care offers convenient walk-in service provided by physicians and advanced practitioners. We have laboratory and x-ray services on site to provide the care that you need in just one stop.
ADJUSTED REGISTRATION HOURS: We wanted to let you know that we have slightly adjusted our registration hours at all four Milford Regional Urgent Care locations (Franklin, Hopkinton, Milford, and Northbridge). Our last patient will be registered 15 minutes prior to closing time. Please be sure to arrive based on the registration time below:
From Monday-Friday, we close at 8:00pm, and will register our last patient at 7:45pm.
On Saturday & Sunday, we close at 5:00pm, and will register our last patient at 4:45pm.
Please be aware that your visit to our urgent care location is billed to your insurance company as an office visit. Although testing for Covid-19 is covered by health insurance, we still may require a co-pay at the time of your office visit. If you are unsure about what your health plan covers, it is always best to contact your insurer directly to confirm that Milford Regional Physician Group is a participating provider in your network.
We treat patients over 1 year of age for non-emergent illnesses and injuries such as:
Coughs, colds and sore throats
Fever or flu symptoms
Ear aches and sinus pain
Rash or other skin irritations
Sprains and fractures
Minor wounds and burns
Minor allergic reactions
Nausea, vomiting and diarrhea
Providers At This Practice