Practices
Milford Regional Urgent Care - Milford
129 South Main Street
Milford, MA 01757
Phone: 774-462-3339
Fax: 508-381-0204
M-F: 8am - 8pm
S-Su: 9am - 5pm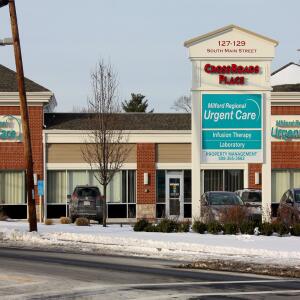 Milford Regional Urgent Care offers convenient walk-in service provided by physicians and advanced practitioners. We have laboratory and x-ray services on site to provide the care that you need in just one stop.
All urgent care locations offer rapid covid testing. For more info, Click here
Due to the increased volume of Covid 19 related visits at our Urgent Care sites, the wait times have increased dramatically. If you need to be evaluated for a medical issue that is non Covid related, please call your PCP to be seen first. They will refer you to Urgent Care if they can't accommodate you. Thank you for your patience.
We treat patients for non-emergent illnesses and injuries such as:
Coughs, colds and sore throats
Fever or flu symptoms
Ear aches and sinus pain
Rash or other skin irritations
Sprains and fractures
Minor wounds and burns
Minor allergic reactions
Nausea, vomiting and diarrhea
Please note that depending on your insurance benefits, you may be charged a Specialist copayment for a visit to Milford Regional Urgent Care in Milford.
Providers At This Practice